(Information below is for t-shirts and printing.  If you need pricing on just Contract Printing -- which means you are supplying the shirts, please click here!)
This is confidential Dealer NET pricing!
Pricing includes white, 5.3 - 5.5 oz. 100% cotton tees •  Adult size  Small - XL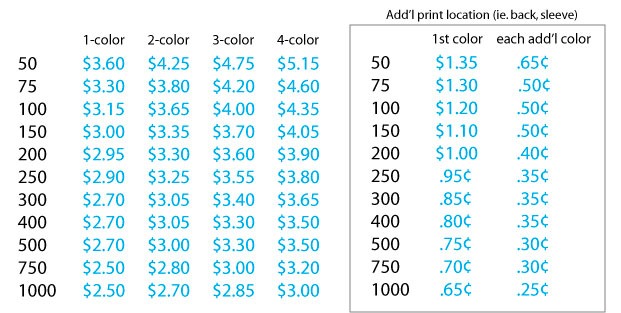 • Art supplied by client in vector format (redraws/vector conversions available at $40/hr) 
• add .15¢ each for 6 oz shirts
• add .75¢ each for color shirts
• add .15¢ each for youth sizes (Youth Small - Youth XL)
• add $1.50 per XXL or XXXL
other styles available:
•  Long Sleeve Tees:  add $4.00 each
•  Standard Hoodies:  add $10.00 each
•  Standard Sportshirts:  add $5.00 each
•  Sweatshirts:  add $6.00 each
Note:  when printing on a dark colored shirt, it is recommended to print an underbase
so that the colors on top will look vibrant (not dull) and the  white looks bright.
The underbase counts as one color.  Not necessary on light colors (ie. baby blue,
yellow, ash, etc).Pricing includes white, 5.3 - 5.5 oz. 100% cotton tees •  Adult size  Small - XL
Procees/Simulated/Index printing available:  call for pricing